Manager as Coach (MAC)TM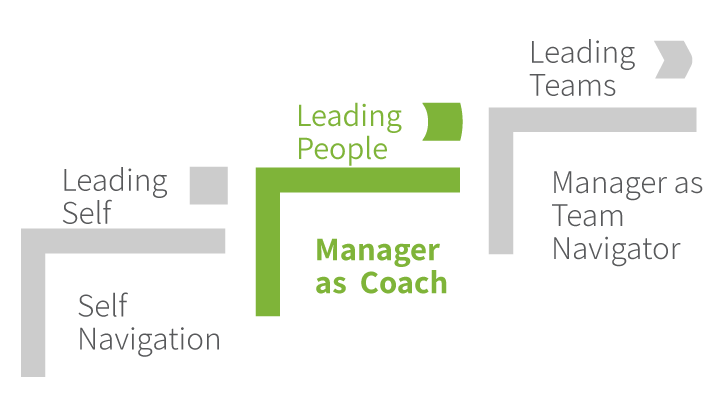 Introduction
Nowadays, in any organizations, the managers usually have to deal with the extreme expectations from both the "above" and the "below". Their team members might want fast advancement, want to utilize their ideas, creativity and unique talents, refuse to deal with obstacles, resist change or do not know how to handle it, and have low levels of engagement and motivation, etc. The managers are also expected to direct people to greater achievement, drive large amounts of change together with their team members and breakthrough challenges, ensure employees' commitment, maximum contribution & buy-in, etc. But most of them are not equipped for these issues. They don't have time or skill to coach their team members or just have little people management competence.
N.E.W.S Manager As Coach (MAC) is unique, structured, highly impactful, practical, absolutely tailored to company's needs leadership training program. The program includes 10 impactful short structured coaching conversations, that resolve most of the management challenges of today, via one2one interactions between the manager and their team members.
Objectives
Equip first and second line managers with tools and skills to lead, coach and develop people in times of change.
Provide leaders with skills to unleash the talent and greatness of their people.
Train managers to conduct short impactful coaching conversations with individual team members, to allow them to move on, overcome challenges and perform better.
The program is suitable for:
First and Second line Managers who:
Work in pressing changing conditions
Manage new workforce
Don't have time, skill to coach their members
Have limited people management competence
Outcomes
After the program, the managers can
Motivate and direct individuals to greater achievement, incorporating a unique compass to identify where people are stuck.
Learn how to have impactful short coaching conversations on the go, develop quick, simple assessment and intervention abilities as a leader
Re-engage and re-connect people.
Lead, motivate, empower and support team members
Develop team member's abilities and potential to move forward and navigate in times of change.
How does it work?
Preparation:
Pre-workshop online assessment.
Preparation and adaptation with the organization
Face to Face intervention:
A 2 day workshop that provides the managers with coaching mind-set, skills and practical tools to conduct impactful coaching conversations.
A set of high impact coaching conversations are being practiced.
Implementation:
Optional follow up and implementation meetings.
Post-training assessment after 3 months to measure ROI.
What can you expect?
Managers will be able to diagnose team member's needs for coaching conversations. They will acquire practical tools to coach their team members' on the fly by learning how to conduct specific impactful coaching conversations. They will develop one-to-one leadership capabilities and foster a coaching culture in the organization.